Doak Lambert's Story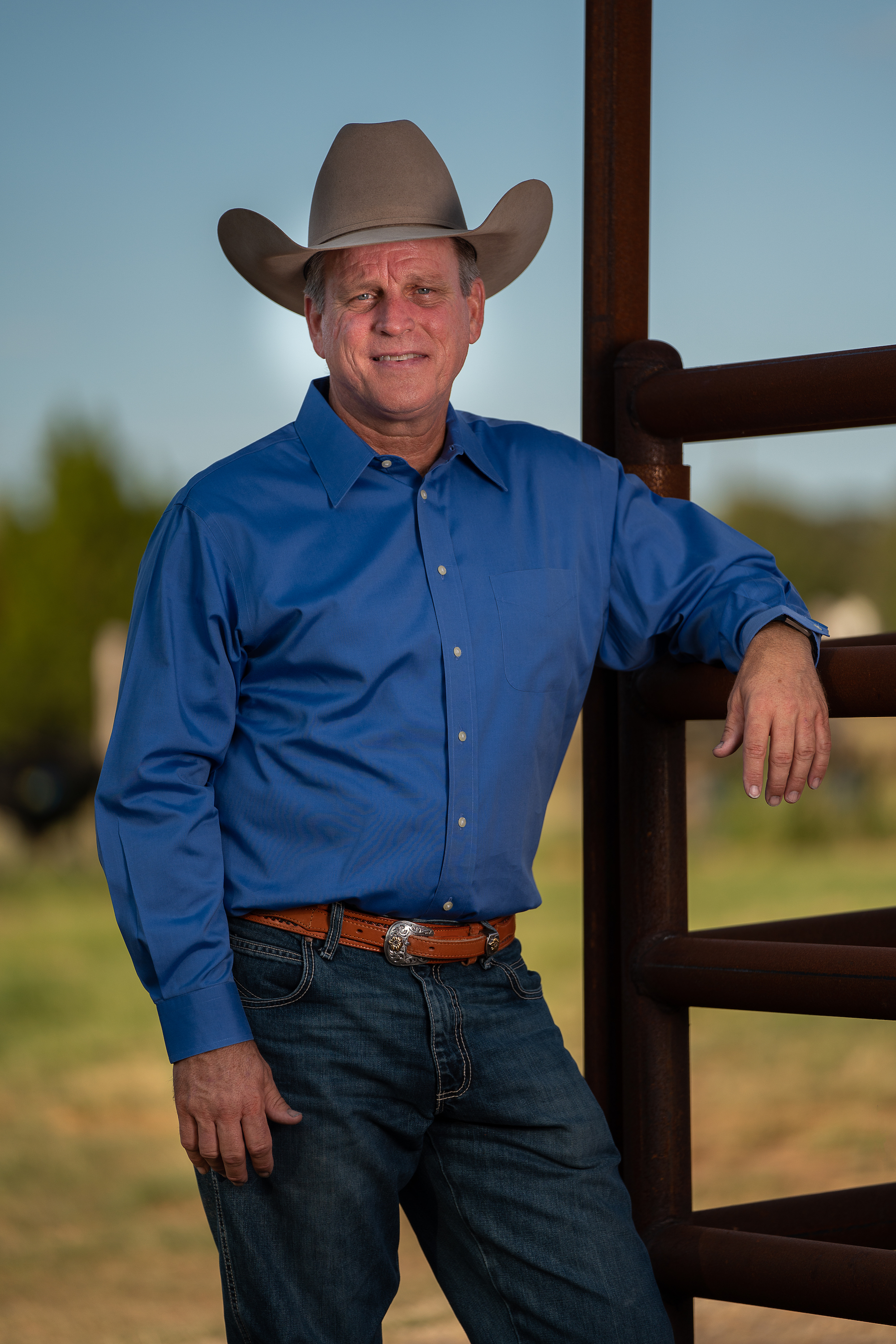 Doak Lambert's voice is recognized across the United States at livestock, automobile and benefit auctions. Lambert has been calling sales for more than three decades. The auction industry has been his passion and sole profession throughout his career.
He is a 1985 graduate of Texas A&M University with a Bachelor of Science degree in animal science. While a student at TAMU, he was a member of a champion meats judging team. Lambert paid his way through college with several jobs, including working nights and weekends at the nearby Calvert Sale Barn in Calvert, Texas. He quickly developed an attraction to the beef industry, the ranchers and the auction method of marketing.
Upon graduation from college, he joined ASH Marketing, a purebred cattle sale management company that focused on Brangus cattle breeding operations. His job was to arrive at a client's ranch, sort and pen cattle, and work the behind the scenes logistics for the cattle sales. Lambert was also cultivating relationships during this time, as he would often be at ranch four to five days prior to the sale. This allowed him to get to know the owners, the help and everyone involved in the production of the sale.
At one particular sale, the auctioneer could not arrive in time. The marketing company found a replacement at the last minute, but the results of the auction were less than stellar. The principles of ASH Marketing decided that Lambert should go to auction school to ensure that their clients were never left in a bind again.
Lambert would graduate from Missouri Auction School in 1986 and even though he had been to school and had his license, he was still doing his same duties for ASH. He practiced his chant, while driving from ranch to ranch and he continued meeting seedstock operators across the country.
But it wasn't long till he got his break into the business. As sale time neared at one particular sale, the auctioneer did not show and he could not be reached. Then, just a few minutes before sale time, the sales marketing company found Lambert in the back and told him he was the auctioneer. He couldn't find a hat to borrow, but did find a tie and he climbed up on the block, despite the remnants found on his jeans from working cattle in the back prior to sale time. This was the beginning of a great career.
All the relationships he had been cultivating over the last few years were sitting in front of him and cheered him on with steady, solid bidding. The cattle sold as high as had been expected and the owner was ecstatic. Lambert made a very favorable impression on the crowd with his ability to chant the numbers and deliver the prices in a smooth and easy to understand manner.
In the meantime, Lambert was also noticed by a prominent car auctioneer who saw some great potential in this young man. Doak began selling automobiles nearly 30 years ago in Waco, Fort Worth, Dallas, and Houston. He has been called upon to sell some of the biggest and most well known auto sales in the country, including the acclaimed Barrett Jackson Collectible car sale in Scottsdale and Palm Beach.
Now some 30 years later, Lambert continues to call cattle sales of many breeds, but also spends the majority of his time making sure the essential supply chain of automobiles stays on track. He calls six car auctions a week and continues to travel wherever he is needed. He can be found in Kansas at the American Royal and the Fort Worth Livestock Show, calling the prestigious Fort Worth Stock Show Ranch Horse Sale from the floor of the coliseum. Additionally, he also auctions the Houston Livestock Show and Rodeo All Breed Bull and Commercial Heifer Sale. Lambert entered the TAA Auctioneer's Contest, as a 25-year-old rookie auctioneer and won it. He, along with ringman, Cody Long, have also won a team automobile auction championship. During his busy career, Lambert also helped write the course and designation to become a contract auctioneer, which is now a premier recognition through the National Auctioneers Association.
Early in his career, he met and married his wife, Wendy, who is also an auctioneer and under his guidance, she won the TAA Contest 25 years after he had. They have three children, D.P., Denton and Sydney, who is married to Jake Little.
Lambert has always carved out time for his family, even though his schedule is busy and requires frequent travel. He has taken many red-eye flights and hired drivers, just so he could be present for Lambert family activities and still be at his best on the block. Lambert has been an active supporter of many Texas A&M activities, especially those related to agriculture and he has always been a proponent and supporter of 4-H, FFA and junior breed association involvement.
The Lambert family has also developed a love for the children of Zambia. They have made multiple mission trips to that country to serve and have spearheaded financial support ministering to the children of Zambia. In addition he has always found time to be an active member and leader in his church.
Lambert has also given back to the auction industry. He has served a three-year term on the TAA Board of Directors and a two-year term on the Manheim Auctioneer Council. He served as a director for the National Auctioneers Association (NAA) and currently serves on its promotion committee. He is a recipient of the NAA President's Award of Distinction, which recognizes his volunteer efforts for the association. In 2020 Doak was inducted into the Texas Auctioneers Association's (TAA) Hall of Fame and was also awarded the Bernie Hart Memorial Auctioneer of the Year Award by the National Auto Auction Association.
While Lambert's strong voice, smooth chant and industry knowledge are admired and recognized across industries, his commitment to building relationships remains one of the strongest principles of Lambert Auction Company.